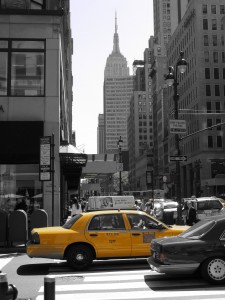 The internet has changed so many of the things we do in our daily lives that we are barely receptive to it anymore. Everyday some new company comes up with some new concept that incorporates the internet into something that was never done that way before. One of the latest things to come about is crowd-sourced taxis. No longer do you have to call a company or wait outside and hope a cab that isn't already booked drives by. Now you can just open an app, push a button and know exactly when your ride will arrive. And the best part is, it's usually cheaper.
Companies such as Uber, Lyft and Sidecar have revolutionized the way we get around. By using regular people who want to make a few extra bucks, these companies have been able to effectively reduce all the overhead of employees and offer a service that many people need at reduced rates. With only the built-in GPS on your smart phone, you can know approximately how much it will cost to get somewhere before you even set foot in a cab. And with friendly drivers who actually want to work instead of cabbies who are just doing the daily grind, you often get better service.
These companies have spread like wildfire and are available in many major metropolitan areas. Uber offers a few different levels of service if you're looking for something a little nicer but has a similar business model to Lyft, with their trademark pink mustaches. Sidecar however, lets drivers compete for your business. You enter your destination and drivers will bid on your fare, giving you the option to choose your price. Though prices can vary in certain areas and during certain peak times, on average you can save about 10-20% off regular cab fares and with UberX, no tipping is required.
While each of these companies are still trying to make a name for themselves, special promotions are being thrown around like nobodies business. With Uber, you can pretty much guarantee your first ride will be free with a promo code. Don't have one? How bout a list of every Uber promo code ever. You're welcome. And if you enter the promo code "slickdeals" in the Lyft app, you can get $50 towards your first ride as well. As for Sidecar, you'll have to do your own research, but surely they are out there.
If the thought of taking a ride in a stranger's car scares you, then think of it this way. These companies use a rating system which puts their top drivers at the forefront giving them more reason to offer you better service. What rating system have you ever seen for a yellow cab? Either way, try something new, go somewhere fun and do it for free with a promo code. Then tell me about your experience.