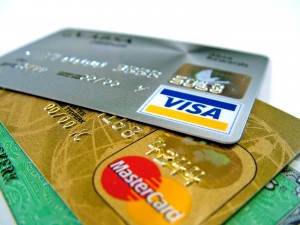 Credit is a wonderful thing. Without it, we would have a really hard time doing many of the everyday things we have grown accustomed to. Even things as simple as grabbing some fast food for lunch are done on credit by most people. And the magical fantasy land that is online shopping would simply be impossible without it. Many important decisions in your life will be based around your credit, and while we strive to make good with the credit companies and keep them happy each month, it's also important to make sure those credit companies are working for you too!
I want to preface this article first by saying one thing. Many people struggle with debt in their lives every day. It's tough to live the "American Dream" without getting a little spendy, and it's easy to go overboard only to find yourself in a hole very quickly. But when utilized carefully and selectively, good credit can make your life a lot less stressful and sometimes reward you very handsomely.
I stopped using cash to make purchases a few years back after realizing I was only throwing money away by not using credit. It takes some discipline to face a large credit card bill at the end of the month and pay it off in full, but I understand it's what I have to do if I want to win the credit game. Even small errors on my part can totally negate any savings I may be realizing, so it's important to stay on top of things.
I've gone through numerous different credit cards over the years, each with its own subtleties. Better fixed interest rate, 0% intro rate, mileage points, cash back, you name it. I've finally settled on a combination that works best for my situation, and hopefully that info can help you with yours.
The majority of my shopping takes place in just a few places, so I specifically target those areas to maximize my rewards.
My current credit card setup is as follows:
Chase Freedom Visa – This card pays 1% back on all purchases and 5% back on rotating categories
Amazon Rewards Visa – This card pays 3% returns on all Amazon purchases (of which there are many!)
PayPal Extras MasterCard – This card pays 3% on all gas or restaurant purchases and 2% on all eBay and PayPal transactions
Costco Tru-Earnings Amex – This card pays 3% on gas, 2% on restaurants/travel and 1% on all other purchases including Costco (which only allows Amex cards)
Target REDcard – This is just a debit card, but it gets me 5% off all purchases made at Target.
Combined, these cards earn greater than 1% back on the large majority of my purchases. And since its not always easy to remember those numbers, I printed out a small label that I stick to the back of each card so I always know which one to use.
So what did this credit card shell-game get me? Well, for the year of 2013, I paid $0.00 in interest to any credit card company and received a combined total of $522.27 in rewards. Not to shabby for just doing what I'm doing already. I should also note that I avoid credit cards with annual fees like the plague, so these rewards are all free and clear.
There are a lot of options out there for credit card rewards so if you need help finding one (or several) that fit your needs head over to Bankrate.com. They do a good job of cataloging credit cards so you can find one that works for you. And don't be afraid to take the bait on a tempting signing bonus. I've made several hundred dollars that way as well (Thanks Southwest Rapid Rewards!).
Whatever you decide, remember that being diligent with paying your bills is way more important than any reward, and all those rewards are worthless if you're paying them more in interest than you're making, so be smart and do it frugal!