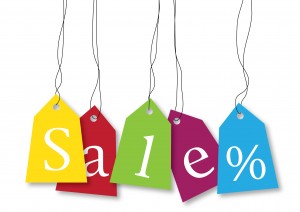 Black Friday is universally known as the busiest shopping day of the year and with so many retailers clamoring for a piece of the pie it can make your head spin just thinking about how to approach it. Black Friday is also home to some of the best deals money can buy if you're willing to put up with a bit of nonsense. With yet another holiday season off to a running start I thought I would offer some advice for having a more enjoyable Black Friday shopping experience. So prepare yourself for the worst with these handy tips.
1. Do Your Homework
The first step to Black Friday is finding out what's for sale. You can wait for all the shiny Black Friday ads to arrive on your doorstep but then you'll just be one step behind the game. Get the info as soon as you can to help develop your plan. There are a variety of sites on the web dedicated to just this purpose and have access to Black Friday ads before they are available to the public.
Check out these sites for ad previews and early info about Black Friday:
2. Set an Attainable Goal
The best deals on Black Friday are called "Door Busters". These are the items you see on the front page of every retailer's Black Friday ad screaming something enticing like "You know you want me…" right into your brain. Often loss-leaders for the retailer, these are the items everyone is standing in line for, and if you're not standing in line, well, you're probably not getting one. So after you've looked at all the ads, your first step is to decide what item you want most. Plan on only getting that one item (unless you're really lucky). Start with this as your goal and work your way up from there.
3. Develop a Plan of Attack
Never go into Black Friday unprepared. You will need ample time to develop a strategy for your shopping day and if you're only starting now it might already be too late. You only get one shot at the good stuff and if you miss out that can throw off your whole day. Try to determine the available quantity of the item you're interested in before hand, and the relative popularity of the retailer. Most retailers will make a small note about availability somewhere in their ad which might give you an idea of how many they will have. Don't be afraid to call the store ahead of time to verify that number. Also, consider going to a store that might be in a less populated area out of your home area to avoid the large crowds. If possible, have a friend or family member drive to a different store and contact you with details about early lineups. Save the smaller stores for later as they will usually have less lineups and a reduced chance of selling out early.
4. Set a Schedule
It seems Black Friday is getting earlier and earlier each year with some Black Fridays running well into Thursday now. Use this to your advantage to stagger store opening times and set yourself up to nab more than one door buster if possible. Once the store opens, you can be in-and-out within a few minutes and on to your next door buster deal somewhere else, but always have a backup plan for when the lines are too long at your next destination. Just remember that no Black Friday is more important than time spent with your family, so don't give up a perfectly good Thanksgiving to save a few bucks. I promise you will find great deals on other days as well if you look for them.
5. Prepare for a Lineup
With most good door buster deals, you will often find long lines many hours before the store opens. Retailers will usually pass out numbered tags so that you know you will be getting the item you want. This reduces line lengths and helps to not waste anyone's time, but be ready for a long wait at some stores. Nights can get very cold so bring lots of warm clothing, gloves, a portable chair, snacks, warm drinks and something to entertain yourself with. Bringing a friend or family member will help you more easily coordinate bathroom breaks and food runs in the middle of the night without losing your spot in line.
6. Safety in Numbers
While larger retailers will often have extra security to ensure customer safety, things can still go wrong. Having someone with you when you exit the store can deter potential thieves from stealing your purchases. Not only for added safety, bringing a friend will also help you score an extra door buster item increasing your chances of getting what you want. Thieves also know there will be large amounts of cash in the wallets of shoppers, so protect yourself by using a credit card and bring a back up card you can stow somewhere else if there is a problem. There are no rain checks on Black Friday and if your card is declined then your time will have likely been wasted.
7. Take Advantage of Special Offers
While most stores will not match prices for Black Friday ads, Wal-Mart has decided this year to match the prices of other Black Friday ads during the time they are valid. They are also offering to match prices of local brick and mortar retails on all Wal-Mart.com purchases through Dec 24th. Check out the full details of this promotion here.
8. Don't Forget About Cyber Monday
For several years now the internet has decided to create its own Black Friday when it introduced "Cyber Monday". This is when you will find the best deals available from online retailers and can often be very competitive with many Black Friday brick and mortar deals. You also get the added convenience of shopping from your computer and not having to wait in line.
9. Don't Assume it's the Best Deal
Just because something is being sold on Black Friday doesn't automatically mean it's the best deal. There are lots of creative ways to find deals any time of year. Read my earlier article about buying a Kitchen Aid Mixer and you can see that with some creative price-matching and discounts you can achieve great savings on any day of the year.