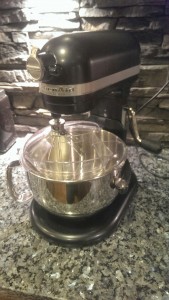 Several months ago I was in the market for a mixer. I had my eyes set on a nice KitchenAid mixer because I knew I would be making pizza dough and wanted something that could handle it. Now, I'm a frugal guy but let there be no confusion, I will still buy nice things. I have no problem buying top-of-the-line items as long as I know I'm getting a good deal. This was the case when I found a great deal on a nice mixer and knew it was time to buy.
After doing some searching and comparisons online I had decided I wanted a KitchenAid Professional 600 mixer which is their top consumer model. Now I just had to wait for a good deal to surface. These mixers are retail priced at $549 but are regularly on sale for $399-$449. This was my starting point.
I found an advertisement for the mixer I wanted from a local retailer for $299 and there was a rebate available for a free ice cream maker with purchase. Knowing that a few places will match prices, I took this advertisement with me to Kohl's and got them to match it. Since Kohl's allows you to stack offers, I was able to use a "$10 off your $30 purchase" coupon reducing my price to $289. I then used a 30% off coupon that Kohl's also had and cut nearly another $90 off. My total out the door price after tax for the mixer was $217.98.
On top of all that, Kohl's had a promotion going that gave you $10 in Kohl's cash for every $50 you spent for use on a future purchase. This gave me another $40 to spend later.
After I filled out my rebate and got my free ice cream maker, I was able to sell it on eBay for $65, further reducing my total. All told, my $549 mixer cost me $152.98 and got me $40 in future spending. It has also made me some delicious pizza dough. So the lesson here is that its OK to buy nice things, just do a little homework, be a little frugal and be ready to jump when a good deal comes your way.
Savings:
$299 (sale price) – $10 (coupon) – $86.70 (30% discount) + $15.68 (tax) – $65 (ice cream maker) = $152.98 (price paid) – $40 (Bonus Kohl's cash) = $112.98