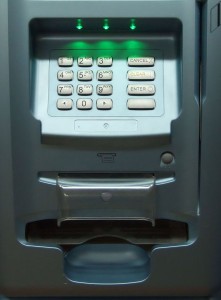 At some point in our lives we've all been victim to ATM robberies. I'm not talking about the guy who waits for you to withdraw your cash, then runs up to you in a black mask and steals it from you, no. I'm talking about the ATMs and banks who think they deserve $2-$6 for the privilege of getting your own money. There are few things I hate paying for more than ATM fees. They are unnecessary, expensive and just plain rude. And if you're only getting $20, that's a 10-30% transaction fee. Robbery indeed! So let me tell you about a neat little tool that can help you avoid paying those fees ever again.
If you bought a new cell phone any time in the last five years or so, it was probably a smart phone. Lucky for you, that means you get to download fun and helpful apps that can save you money. MasterCard ATM Hunter is just that. It can use your phones GPS signal (or an address or airport code you specify) to find the nearest ATM to your current location. If that wasn't enough, it will allow you to filter the search results by bank, ensuring that you never pay another ATM fee again. The app will give you helpful details like whether the ATM is in a bank or a store, even where to find it once you get there. It can tell you where you can make deposits and even if the ATM is accessible 24-hours. The MasterCard ATM Hunter app is FREE and available in the app store for Android, iOS and Windows phone devices. 
Of all the terrible ways to throw away your money, ATM fees are one of the worst. Getting a $3 charge from an ATM and ANOTHER $2 charge from your bank just to get your money never feels good and simply doesn't need to happen. Do it frugal and get this app now to avoid future ATM fee headaches.