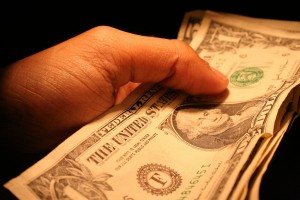 Discounts are all around us. Some retailers thrive on "discount pricing" for all of their items, while others would never associate themselves with any sort of discount whatsoever (Apple)(but ask for a student discount anyway). But the fact is discounts are everywhere, sometimes you just can't see them.
If you have a AAA membership, chances are you've gotten a discount from it somewhere. But chances are also that you missed a discount somewhere else that you could have had. Most places don't advertise the discounts they offer unless you ask. And why would they? It's nice of them to offer, but they don't need to go telling the  world about it. But as is the case with many discounts, ask and ye shall receive. AAA offers discounts at a variety of locations many of which you may never think of. Don't have a AAA membership? Neither do I. But that doesn't stop me from asking. Simply put, people are willing to give you something just for asking, even if you don't have what is required.
What can I use to get a discount?
Well lets see. Here's a short list of memberships and organizations that might net you a discount in some place or another.
AAA Membership (duh)
Student ID cards
Military ID cards
Union Memberships
Professional occupations (ie. Scientists, Teachers, Lawyers)
Car club memberships
Costco memberships
Senior IDs
Employee IDs
Annual passes
What places will give me a discount?
Well there's a whole bunch of those too, and probably a bunch more that I don't know about. But here's another short list.
Movie theaters
Amusement parks
Hotels
Rental car agencies
Cellular phone companies
Car insurance companies
Restaurants
Car dealerships
Travel agencies
Sporting/Concert events
And many others
How do I know if I can get a discount?
Well, if you're really lucky, they will tell you up front. But the only way to know for sure is to ask. Whenever you are getting rang up for a purchase or being quoted a price for something you could say, "Do you happen to offer any discounts for AAA or Union members?" They may say "No", but they may also follow it up with, "But we do offer military discounts". With any luck they might say something which might also apply to you.
I currently receive a 15% union discount on my cell phone bill which saves me about $25 per month. I've also received two $500 rebates after leasing two different BMW's for being a member of the BMW Car Club of America. Student ID discounts have saved me countless dollars on movie tickets, attractions and events. I couldn't possibly count the many times I've gotten discounts at places I never thought I should be getting a discount just for asking, so don't be shy and speak up, it's definitely worth your while.