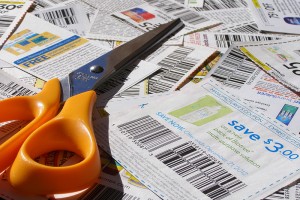 I shop online a lot. No, seriously. There are packages delivered to my house nearly every other day. Nothing can beat the convenience, the time savings, the gas savings and the great prices available online. And lets face it, retailers would rather you shop online too. There's no fancy storefront to keep up, no cashiers and they are open 24/7. It's the very reason online stores can deliver the low prices they do. But they tease you to save even more and they are rubbing it right in your face. Are you gonna let them treat you like that?
If you've bought something online before, you know the drill. Enter your details, verify your items, get your total, click the big "purchase" button. It's the same routine at nearly every online retailer. But perhaps you happened to glance over that little "Apply coupon/promo code" box found at nearly every checkout without a second thought. Well if you did, you've made a serious frugal error.
Coupon code boxes are a free reminder designed to save you money. It's almost as if the retailer is slapping you in the face saying, "Hey stupid! This is the box that gets you a better deal. Don't forget to use it." And if you're not doing just that then you don't want free lunch. Maybe you don't like free lunch, but if you've followed any of the tips on this site, then chances are you've had a few free lunches on me already. You're welcome.
What do I put in the box you ask? Well, you could sit there and try to guess, but that probably won't work. You could sign-up for their email list and wait for something to come along in your inbox, but chances are someone else has already done that for you.
There are several websites dedicated to sharing coupon and promo codes for many retailers and they are your key to a free meal. RetailMeNot.com is one of the largest such sites, but the easiest way to figure out if there's something out there for you is to check the ol'google and type in "WebsiteIWantToSaveMoneyAt.com coupon code" and let the smart people do their magic. Within a few seconds you can check the results and find out if you're a winner. Occasionally you will get some expired coupons or even no results at all, but you tried and that's what matters.
Another tip is to install a browser extension such as "Invisible Hand" or "PriceBlink" and they can automatically notify you of any coupon codes that are available for the site you are on. This makes it even harder to skip out on the savings.
So next time you see that coupon code box, you slap that website right back in the face with a coupon code search and you could be well on your way to that next free lunch.
Don't miss any great tips from do it frugal.
Subscribe now for all the latest
!   Coupon Image Provided By:
www.StockMonkeys.com