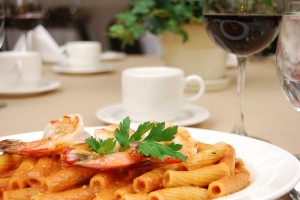 There are few things I like more in life than good food. And being the frugal gentleman that I am, getting good food for less money is even more satisfying. So I thought I would change things up a bit this week and talk about a few of the many great methods I have used to save money when dining out. So lets get started with 11 ways to save money when dining out.
1. Sign up for email newsletters
Nearly every major restaurant has a newsletter that they send out via email to let you know about new menu items, current promotions or even just to send you a coupon for the next time you dine in. Sometimes these may not be what you're looking for, but once in a while you'll get a decent offer. What you can almost always count on is getting something free for your birthday each year. Whether it be a buy-one-get-one offer or just a free meal for coming in, your birthday month can often give you a weeks worth of free food if you sign-up with enough places.
2. Costco gift cards
Among many other great deals, Costco offers reduced price gift cards for several restaurants and other locations. Typically you can buy $100 worth of gift cards for around $80, saving you 20% right away. Couple this with any coupons you might find for your restaurant of choice and you're in some serious money-saving territory.
3. Cardpool gift card exchange
In addition to Costco, finding gift cards online is another option. Sellers sell unwanted gift cards at a reduced rate to those looking to buy. Cardpool.com offers gift cards for several top restaurants at discounts of up to 15%. They guarantee the sales and offer free shipping as well. They don't just stop at restaurants either, Cardpool offers a gift cards for just about any place you can think of, some at up to 35% off!
4. Google for coupons
With the addition of one smart phone to just about every pocket in America, having the internet at your fingertips has become a valuable resource. Countless times I've sat in a restaurant wondering if I could find a coupon for said restaurant on Google. So I pull out my smart phone, type in the restaurant name followed by "coupon" and the year (to get more recent results) and quite often a Google image search will give me a nice digital coupon that I then show to my waiter for an easy discount. Even expired coupons are often taken in many places so don't be shy and give it a try.
5. Entertainment books
Entertainment coupon books have been around for a while now and offer great savings on many activities. They aren't free but often just one or two uses can pay for the cost of the entire book. You can find coupons to hundreds of restaurants, fast food establishments, boutique shops, activities, movies and sporting events. Each book caters to a specific local region and are valid until Nov of the following year. The later in the year you buy your entertainment book the cheaper they get, and it's not unheard of to find them for about $10. Check out entertainment.com for more details.
6. Point systems
In addition to their coupon offerings, some eateries offer point systems that track your purchases and offer rewards for frequent diners. These can vary from free appetizers, to desserts to entrees and only require that you bring in your membership card when dining, though sometimes you can add your points later using your receipt. Usually these programs are well advertised in their respective locations but don't forget to check out the corporate websites too.
7. Restaurant.com
Restaurant.com is a website that essentially sells coupons to lesser known restaurants in your area. A typical coupon will offer $25 off if you spend $40 or more. These coupons come with restrictions and may not be valid some days, so be sure to check the fine print, but this is a great way to find some hidden gems in your city. The regular price for these coupons is usually $10, but they often have sales available bringing these coupons down to $2-$3 making them a great way to save money.
8. Foursquare promos
The foursquare app available on most smartphones allows you to "check-in" to places you visit using the built-in GPS of your phone. Sometimes you can find special offers available only to foursquare users that you can unlock by visiting these locations. Some promotions require multiple visits within a certain time frame but others may score you a little something extra just for "checking-in".
9. Survey coupons
Gone are the days of short receipts. Now it seems every receipt you get from any store or restaurant you go to is a mile long. Many times these receipts invite you to take a survey based on your visit so the company can gauge how they are doing. Many of these surveys will enter you for a chance to win a gift card or cash, but the good surveys will actually give you something for free on your next visit. The surveys usually take just a few minutes to complete and the freebies can range from deserts to appetizers to discounts on your next meal. So don't throw away that huge wad of paper before checking for your next coupon.
10. Credit card rebates
Paying for your next meal can earn you rewards in the long run. Some credit cards offer up to 5% back on every dining purchase as well as cash back on other purchases you make. Check the details of your credit card to see if any cash back options are available to you or find out about new cash back credit cards by visiting Bankrate.com.
11. Take the tax write off
If you own a business or work as an independent contractor, you may be able to write-off a portion of your restaurant expenses on your annual tax return. Check with a tax specialist to make sure you are following IRS guidelines, but this can be a great way to dine out without taking as much out of your pocket.