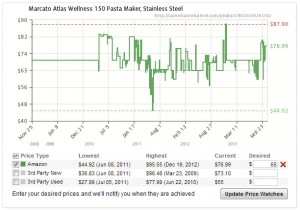 Today's blarticle goes to another one of my favorite online pricing tools. If you're an Amazon shopper, and you should be as they often have the best prices, you might know that their prices can change quite often, sometimes multiple times per day. A no-doubt complex algorithm that Amazon has decided upon to make sure they stay competitive. Even though you might find the best price one day, how do you know its the best price ever? That, my friends, is why we use Camels.
Camelcamelcamel.com is a price tracker that works on several sites (namely Amazon.com) and monitors pricing changes over time. This allows you to see the highest and lowest prices for an item (for as long as its been tracked) and helps predict pricing trends. For instance, in my example photo I can see that the highest price for a Marcato Atlas pasta roller is $95.55 and the lowest price was $44.92, a difference of over $50. The current price as of this writing is $76.99 and I can see that the average prices hovers somewhere just under the $70 mark. Using this info I can gauge whether it's a good time to buy or hold off for a while.
The next great thing about thrice Camel is that it has a built-in price notification tool. You can set your own price and as soon as that price hits they will notify you by email (or twitter if you prefer). It's like being at the store 24 hours a day and waiting for the item to go on sale.
Camelcamelcamel also works with Best Buy and Newegg and has a handy browser extension available for free to make it even easier to use. So next time you're thinking about buying something from Amazon that isn't needed right away, check with the Camel and see if you're getting a good price. The more you know…