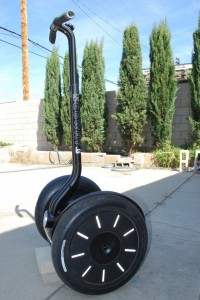 Back in 2009, I was browsing through some classified ads and found one that stood out. It wasn't something I had expected to see and it was definitely out-of-place, but I gave it a quick glance and quickly realized that a great opportunity was staring me in the eyes. Sometimes the best deals come when you aren't looking for them, and such was the case in what has been the best money-making opportunity I've come across so far.
Up for sale was ten Segway Human Transporters. It was that crazy invention brought to you from the mind of Dean Kamen that didn't really revolutionize anything, much to his dismay. They seemed kind of cool in concept, but certainly nothing I would spend the large chunk of change required to own one myself, unless of course it was too good of a deal to pass up. The asking price was $10,000, a seemingly arbitrary number of dollars, and just about all the money I had at the time. The person selling them worked in a warehouse that used them to get around, but due to insurance liability the company decided they had to go.
I had been saving money for a down-payment on a house in a rather difficult market and so far it was all I could muster up. It was a risky proposition for me and I knew I didn't have much time to decide, but I had just enough time to do some quick research and figure out that there was no way I could lose money on this deal. Doing some quick number crunching on eBay I realized that on the high-end, I should be able to make around $3000 and at the low-end it would be about $1500. At the worst case scenario, I figured I could net $5000 which was pretty good in my books.
I contacted the seller who lived across the country, got the best descriptions I could for the devices and pictures of each one. I arranged what was the most nerve-racking irreversible wire transfer of my funds to him in the hopes that I would be receiving ten Segways, sight-unseen, in return. After adding about $800 in shipping costs, a few weeks later I was the proud owner of ten very used Segways in much need of some TLC. At least at this point I could stop sweating.
I cleared out an entire room in the place I was renting then, and staged a Segway clinic where I could test and inspect each unit for the next few weeks, getting all the broken pieces replaced and cleaning them all up for a quick sale. Fortunately for me, I found a local shop that specialized in Segways so I was able to get the parts I needed fairly easily. After spending about $540 in repairs I had 9 working Segways and one that just wasn't going to make it. The Segway store owner opted to buy my broken Segway for $1000 which was just under breaking even at this point.
I began selling them one after another on eBay and through local sales. Aside from my broken Segway, my worst sale was $1638. At best, I made $3544 from one sale. After they were all sold, my total sales reached $22,998. Counting my initial investment, repairs, eBay and shipping fees, I spent $12,677 giving me a total profit of $10,321, or just about doubling my investment within a span of less than three months. I still have a pile of accessories that may net me another $100-$200 if I ever get around to selling them.
With that added money I was well on my way to buying a house and about six months later I did just that. I put in a lot of legwork running back and forth to the shop, cleaning, photographing and setting up auctions but it was well worth the outcome for me. So next time you come across a deal that seems too good to be true, don't discount it right away. Doing it frugal is just as much about making money as it is about saving. Put in a few minutes to see if it could be worth your while. Alternatively you can send it my way.
Earnings:
$22,998 (Sales) – $12,677 (Investment) = $10,321 Profit