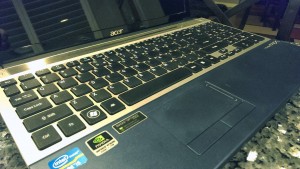 One of the best ways to get a great deal on something is to stack multiple offers. This can get tricky when retailers prohibit using multiple discounts, but when you get away with it, you can find yourself saving a lot of money. This was the case when I purchased myself a new laptop about two years ago.
Whenever I make a purchase over about $300 I tend to spend a little more time looking for a good deal. There are certain places I frequent because they typically offer the best deals consistently, but once in a while I hear about an offer that might make me choose a retailer I wouldn't normally use.
Microsoft decided to try their hand at opening retail stores in mall locations, much like their competitor Apple. Microsoft has been known to offer some fairly ridiculous incentives just to get people to give them a try (Bing anyone?). When shopping for my new laptop I came across a promotion that was too good to not at least give them a look, so I ventured into the nearest Microsoft store to see what they had to offer. I found an Acer laptop that I was pleased with and decided to go for gold.
The laptop had a regular price of $899 but was on sale for $699. Looking around online, the next best price I could find for the same laptop was $779 so I knew it was a pretty good start. Microsoft was offering a promotion where you could bring in any used laptop in working condition and they would give you $150 worth of store credit. My former laptop was on its way out but still worked fine. Had I sold it on eBay I might have gotten about $75 for it, so this was a good incentive for me. On top of that, any new laptop purchase over $600 would come with a free smart phone (chosen from four different models). I knew this going in, so I researched which smart phone had the best resale value and went with that one. I wound up with an 8GB Dell Venue Pro smart phone for free. On top of THAT, I knew Microsoft offered a 10% discount to students. Well I just happened to have my student ID with me.
The retail clerk didn't think I would be able to use all of the above promotions at the same time but that didn't stop him from trying. Sure enough, the computer gladly accepted all the discounts and I walked out of the store with a brand new laptop. I unlocked the smart phone which increased its value and immediately sold it on eBay for $313. So after all was said and done, my new laptop, sale priced at $699 cost me a total of $222.76.
So the moral of the story here is, keep your eyes open for these opportunities and don't be afraid to ask someone to try to stack a few offers for you. You might have to try a few different people, but when it works, it's well worth it.
Savings: 
$699 (sale price) – $69.90 (student discount) – $150 (old laptop credit) – $313.10 (smart phone) + $56.76 (tax + env fee) = $222.76 (total price paid)
$699 (sale price) – $222.76 (price paid) = $476.24 (total savings)