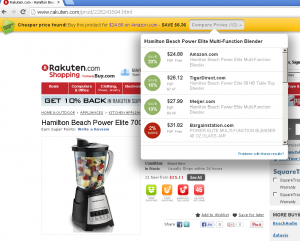 One of the great things about technology is that it can make our lives easier. We often find ourselves overwhelmed with the latest and greatest tech wonders, but without these tools at our disposal, we can only guess what the best choice is. By embracing technology and utilizing the resources around us, we can often make much more informed decisions. The internet has enabled some of the greatest minds to come together and create tools that can help us find what we are looking for faster and cheaper. One of my favorite tools for doing so is a little plugin called "Invisible Hand".
Invisible Hand is a free browser extension that is available for Firefox, Chrome and Safari (please don't tell me you still use Internet Explorer). It works by monitoring items you are shopping for and immediately cross-checking prices across many of the webs most popular e-commerce sites. It's equivalent to having someone standing behind you at a retail store and going, "Ahem. I noticed you were looking at that blender there. Well I happen to know that you can get it at Target for $5 less." You of course respond by thanking that person, getting in your car and saving some money somewhere else. It really doesn't get much easier than this and if you do a lot of online shopping the savings can really add up.
Invisible Hand itself claims to save people an average of $7.86 which sounds like a free lunch and I don't know about you but I LOVE a free lunch. So take a second to give it a try, and see if it can save you money on your next purchase. Let technology do the work for you and sit back and enjoy the savings.
Savings:
~$7.86 per item