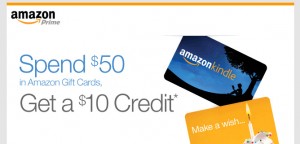 Sometimes the best deals are the ones you weren't even looking for. These are also the most difficult to justify no matter how good. The fact is, we don't want to buy something we don't need, but being frugal isn't just about saving money, It's also about being able to recognize when a good deal is worth looking at just because it's a good deal. When a deal is good enough, there will be plenty of opportunities to turn that into actual savings at some point down the road and that's why it's important to invest in your future.
I recently received a promotional email from Amazon.com. It was only sent to select individuals and I don't know what the criteria for selection was but Amazon decided I was a good candidate, and they were right. The offer details mentioned that if you purchased a $50 gift card to send to someone, they would send a $10 promotional gift card to you. Being the rather frequent Amazon shopper that I am, I realized that this seemed like a pretty good opportunity. My only hesitation was that I had to send someone ELSE the $50. After reading the fine print of the offer and concluding that no where did it say I couldn't use the $50 myself, I decided to give it a shot.
I purchased the $50 gift card and sent it to an alternate email address that I owned. Once I received the code in my alternate email address, I immediately applied it towards my own Amazon account. About two weeks later I received my promotional $10 gift card. This was equivalent to getting a 20% off coupon for Amazon's already low prices. This wasn't a very difficult choice to make for me because I knew that the $50 gift card would get used without a problem, but this is one of the questions you have to ask yourself when deals like this cross your path. Buying stuff you don't need is usually a more difficult choice, but can often be some of the best savings opportunities. I will no doubt be writing more about that subject at a later time but remember that doing it frugal isn't always about saving money now, sometimes it's about saving money later.
Earnings:
$10