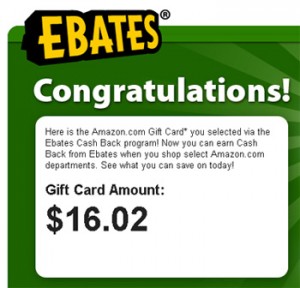 I don't know about you but I like to shop online. A lot. Conveniences like price comparisons, reviews and not having to drive to stores far outweighs the luxury of being able to touch the item in my hands and buy it right this minute. The internet has simply made it way too easy for us to buy things and have them delivered right to our doorstep in a matter of days and often at reduced prices compared to most brick and mortar stores. And while I enjoy those discounts, I can further supplement my savings by using rebate websites. I call it "online double-dipping" and it's just the start of the many levels of dipping that are available to online shoppers.
Online rebate sites work by paying you a percentage of your total purchase in cash back when you shop at participating online retail partners. Presumably, the rebate sites make their money by getting a greater percentage of cash back and giving you a portion. The list of participating retailers is quite large and features many sites I shop at regularly. I try not to concern myself with whether or not a particular retailer is or isn't participating in this program, It's more of a bonus. Though once in a while a retailer offers a particularly large percentage of cash back which makes it a little more enticing to buy from somewhere else instead.
There are two major cash back websites that I am aware of, one is Ebates and the other is Mr Rebates. Both are the same in concept but each one varies the percentage of cash back so its best to check both to see which one offers more. I have been a member of both of them since 2010, however I generally stick with one of them to consolidate all of my rebates to one account.
Say for instance you want to buy something from Walgreens.com. You would first go to Ebates, see if Walgreens is a partner and see the percentage of cash back they offer. As of today, Ebates offers 8% cash back on all Walgreens purchases. Currently Mr Rebates offers 7% cash back on all Walgreens purchases. In this case I would likely make my purchase through Ebates to get a better return.
After you meet a certain threshold, the sites will pay you out by check or Paypal and in the case of Ebates, they additionally offer Amazon.com gift cards which include a $1 bonus to your payout. This is my preferred method of payout since I'm a sucker for an extra bonus and I shop on Amazon all the time. So far I've earned a combined total of around $74 over the last two years or about $37 per year.
The hardest part I've found is remembering to check if a rebate is available BEFORE you buy something. Luckily for me, Ebates made that a lot easier when they introduced a browser extension that tells me when I'm on a website that offers me cash back. The browser extension is available for all major web browsers and installs quickly and easily. If you don't know what browser extensions are I urge you to find out. There are literally thousands of them and they can make your internet experience much more enjoyable and cost-effective. So next time you buy something online, remember to do it frugal and get some cash back while you're at it!
As with many online services, both of these websites offer referral bonuses so if you're thinking of giving it a go please use the links below to setup your account. Mr Rebates even offers a registration bonus to YOU if you sign up, so don't forget to take advantage of that.
Earnings:
Ebates – $55.64
Mr. Rebates – $18.53